Conditions are dire in Lismore, in New South Wales, where the entire CBD remains underwater.
Dozens have been forced to clamber onto their rooftops in the middle of the night, spending hours waiting to be rescued by both the State Emergency Services and private citizens with boats.
The Australian Defence Force arrived in Lismore on Monday to help the stretched emergency response crews which includes the RFS, NSW Fire and Rescue, police and ambulance and SES volunteers. But these efforts have been hampered by the extreme weather preventing access to the town from the air.
The northern NSW city recorded 181mm of rain in 30 minutes today, and it remains the focus of the emergency, facing its worst-ever flood crisis that is set to surpass the devastation caused in 1954 and 1974.
The town's Wilsons River is expected to reach around 14.2 metres on Monday afternoon, prompting fears of unparalleled inundation in the area. The river's previous record high of 12.27 metres occurred in 1954.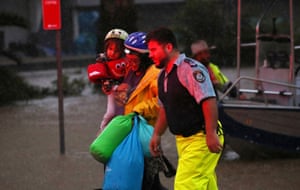 Lismore Mayor, Steve Krieg, described the situation as "unprecedented", "very dangerous and life-threatening", while the federal Labor MP for Lismore, Janelle Saffin, said she escaped rising waters by swimming out of a house where she was sheltering, after sudden flooding left her a "sitting duck".
Across the border in Queensland, the body of an eighth flood victim has been found.
Surf lifesavers found the bodies of a man in his 50s and his dog in a submerged car in the Currumbin Valley on Monday morning after they were swept off the road on Sunday night, police said.
Police said they also hold "grave concerns" for three men missing in the floodwaters in Brisbane, to the west at Goodna, and to the north at Glen Esk, while they are also looking for a car reportedly swept away at Yatala.
Major flooding is underway on the Brisbane, Bremer, Lockyer, Logan and Albert, Mary, North Pine, Noosa Maroochy rivers after a year's worth of rainfall in some areas in one or two days.
The Queensland premier, Annastacia Palaszczuk, said the intensity of the downpours and severity of the floods were not expected.



It has been fast and it has been furious, and it has had a big impact. That is the facts.