NSW plastic bag ban begins
Single-use plastic shopping bags have been banned in NSW ahead of further changes to eliminate other plastics later this year. Here's what you need to know from AAP.
The ban comes into effect from today, with retailers who continue to provide the bags up for a maximum fine of $275,000.
The state will expand the ban on single-use plastics in November to include straws, coffee stirrers, cutlery, plates, cotton buds, polystyrene cups and containers, and cosmetics containing plastic microbeads.
Environment minister James Griffin said convenience didn't make up for the permanence of plastic, and the single-use plastics made up about 60% of all the state's litter.
I think all of us can see the impact plastic pollution is having on our environment. By stopping the supply of problematic plastic in the first place, we're helping prevent it from entering our environment as litter, or going into landfill.
Exceptions will remain for people with disabilities or medical needs that require them using single-use plastics such as a straw. The bag ban does not apply to bin liners or supermarket produce and deli bags.
The NSW government has worked with the National Retailers Association to provide education on the new laws and aid compliance, small business minister Eleni Petinos said.
Opposition small business spokesman Steve Kamper said education programs were left too late and had inadequate reach. He said more notice and better government messaging would have prompted businesses to purchase paper or cardboard packaging months ago instead of ordering more plastic bags.
No one told these small businesses that plastic bags are banned … now they're sitting on thousands of dollars' worth of bags they can't use.
All other states and territories have already banned plastic bags, beginning with South Australia in 2009. Major supermarkets Woolworths and Coles also stopped providing single-use plastic bags in 2018. The thicker plastic bags sold in supermarkets are not banned by the new laws.
Richard Marles on Peter Dutton's China language
Deputy prime minister Richard Marles was also up on Sunrise this morning.
Asked about reasonably inflammatory language from Peter Dutton that the only way to preserve peace in the region was to prepare for war with China, Marles said "we have got to be really careful" about choice of words.
I think it is … more about what we actually do. In that sense, it is really important that we actually get the high-power equation rate. That means we get long-range capable submarines on time and when you look at the former government they beta test very loudly but when it came to the doing, the action, they were found missing on every occasion.

I think the priorities are making sure that we get the submarine program back on track, making sure we do get our relationships right amongst our regional neighbours in the Pacific and the area where I had an enduring engagement. And that is what is most important we can do in terms of keeping our country safe.
Aged care reform overdue, says new minister
New minister for aged care and sport Anika Wells also appeared on Radio National this morning. She said aged care reform was long overdue and the government needed to demonstrate it was a valued industry in Australia.
And she hopefully flagged sports rorts is behind us.
It's snowing in the ACT!
Severe weather warning for Australia's east
It's definitely winter today with a severe weather warning in place for large parts of Australia's east, as the risk for damaging winds continues.
The icy blast hitting the Hunter, metropolitan Sydney and Melbourne, Illawarra, South Coast, Tablelands, South West Slopes, Snowy Mountains, ACT, Gippsland and Lord Howe Island will continue until this evening, with winds of up to 100km/h and blizzards expected over alpine regions.
The Bureau of Meteorology warned saturated soils brought an increased risk of trees and powerlines toppling, particularly along high terrain.
Wind gusts in excess of 90km/h were recorded at several locations in the Illawarra yesterday evening and early this morning including Wanganderry, Nowra, Albion Park and Bellambi.
The strongest wind gusts were around the Wilsons Promontory area in Victoria, with a 107 km/hr gust recorded at Cape Otway this morning and a 124 km/hr gust at Hogan Island between Victoria and Tasmania.
Richard Marles talks about cabinet picks
Marles indicated Labor's cabinet would likely have had a 50-50 gender split if it weren't for Kristina Keneally and Terri Butler losing their seats.
There is a record number of women in cabinet, but fewer than 11 ministers that were in shadow cabinet under Labor.
Marles said Labor faced "difficult circumstances" of two senior female politicians losing their seats but there were "fantastic women" coming onto the frontbench.
It's a significant moment in our nation's history that we have 10 women in cabinet, 13 in ministry, women of enormous calibre in the most senior roles who are going to play a critical part in shaping character of this government.
Asked if Tanya Plibersek, who has been given the portfolios of environment and water had received a demotion as she was previously shadow minister for education, Marles said the was the "last thing" he would describe it as.
"It's a really important portfolio, he said.
It might be how the former government viewed that area of policy but for us the environment is front of centre and it always has been.
Richard Marles on Pacific challenges
Deputy prime minister Richard Marles is on Radio National.
Asked why he chose defence as his portfolio, Marles said Australia was facing the most difficult set of circumstances since the second world war, citing the nation's need to get "regional relationships right" in the Pacific.
It's really important we're getting national security right and there's a lot to be done around the failings of the former Liberal government on issues such as submarines … we've seen a capability gap of 20 years grow in the last 10, we've got to do something about that.

This is a really significant moment in time in terms of Australia's place in the world and our strategic circumstances there's much to do and it's really important we get it right.
Marles said Australia would become the Pacific's "natural partner of choice" if the government put in the work. He said foreign minister Penny Wong's trip to Fiji in her first week holding the portfolio made it "completely clear" what the Labor government's priority would be.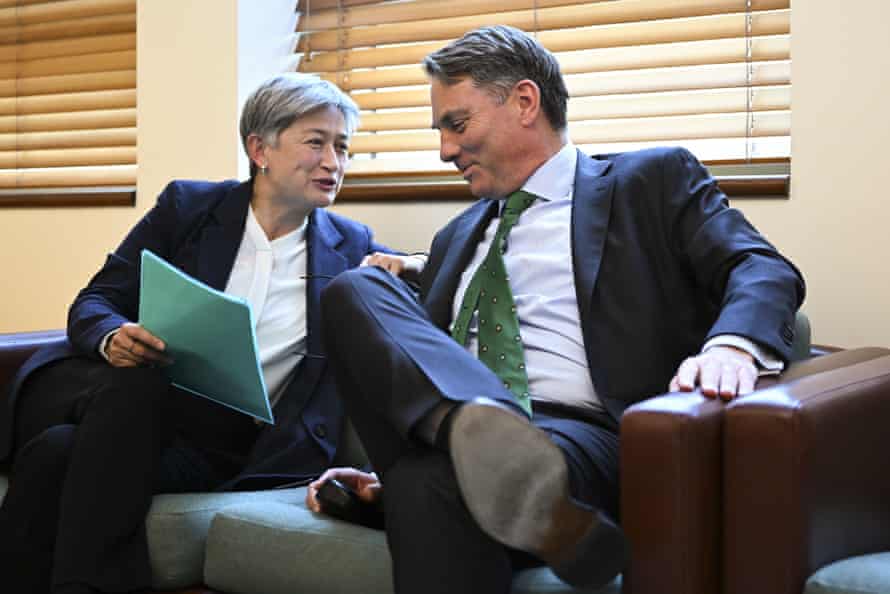 The key here is making sure we do the work as a country in terms of our relationship with the Pacific to make sure we build the relationships and put forward plans and projects that advance their interests.

If we do that we will be the natural partner of choice for the Pacific but … it's something we need to earn and something we need to work on.
Marles said submarines would be on top of his agenda in first term.
Billy Bragg praises Anthony Albanese's 'socialism of the heart'
Musician Billy Bragg has welcomed the prime minister's quoting of his lyrics in his first press conference, describing him as having a "socialism of the heart" and a "commitment to the politics of compassion".
Anthony Albanese is set to swear the most diverse ministry in history in at Government House today following his full announcement of appointments on Tuesday.
Caitlin Cassidy here to guide you through it, while sheltering from Sydney's icy winds.
Ten of the 23 cabinet ministers announced are women, a record, but less than 11 shadow ministers that were in Labor's opposition. The cabinet also holds the first Muslim ministers to serve in Australian parliament, Ed Husic and Anne Aly.
Albanese labelled it the "most experienced incoming Labor government … since federation".
Meanwhile, it is the first day of winter, and we are diving in headfirst this year, with possible blizzards and vigorous winds for large parts of New South Wales, Victoria and the Australian Capital Territory, including Sydney and Melbourne.
The risk of damaging winds of up to 100 km/h continues east of the Great Dividing Ranges as a deep low pressure system flows from the Queensland border down to Gippsland. Blizzards are likely in alpine areas.
Speaking of NSW, two reforms are coming into effect in the state today including new consent laws and a ban on plastic bags. The changes, meaning a person must do or say something to affirm they have consent before sex occurs, aim to better deliver justice to victims and survivors of sexual assault.
In other news, cost of living pressures are continuing to pinch with a spike in wholesale power costs challenging families.
The deputy prime minister, Richard Marles, told Nine Network power prices were a "real issue" exacerbating the cost of living crisis.
He said rising power prices weren't something that could be immediately resolved before pointing to Labor's plan for more affordable childcare, its support for a minimum wage rise in line with the rate of inflation and the transition to renewable energy.
It'll no doubt be a busy day, so let's get cracking.