New consent laws in effect in NSW
New affirmative consent laws have come into effect in New South Wales today, meaning a person needs to do or say something to show consent – or say or do something to seek consent – in order to engage in sexual activity.
The NSW attorney general, Mark Speakman, said the reforms sought to tackle sexual violence in the state.
The consent reforms are not just about holding perpetrators to account, but changing social behaviour with clearer rules of engagement to drive down the rate of sexual assaults.

These laws set clearer boundaries for consensual sex, reinforce the basic principle of common decency that consent is a free choice involving mutual and ongoing communication, and reinforce that consent should not be presumed.
Next up are the outer ministry:
Matt Keogh, who takes on veterans' affairs and defence personnel.
Pat Conroy, who will serve as minister for defence industry, international development and the Pacific.
Stephen Jones, assistant treasurer and minister for financial services.
Andrew Giles, minister for immigration, citizenship and multicultural affairs.
Anne Aly, minister for early childhood education and youth and the first Muslim woman to serve as a minister.
Anika Wells, minister for aged care and sport, a big promotion for her second term in parliament.
Kristy McBain, minister for regional development, local government and territories and another big promotion after entering parliament in 2020.
A day of firsts.
Family outing
Anthony Albanese's first full ministry is being sworn in at Government House. After his interim group of five was sworn in last week, the prime minister has now presented his full 42-member frontbench.
It's a big day for the politicians, but also their families. Most brought their partner or children to the event, and with Labor's caucus full of young families, there have been a lot of kids running around.
Jason Clare, the new education minister, turned up with his son Jack in a full head-to-toe red Adidas tracksuit, and Atticus in a koala beanie. "Look out Government House," Anika Wells tweeted alongside a photo of her partner and three children.
In the background, as ministers swore their oaths, other babies – all very well-behaved, it must be said – cooed and babbled and squirmed.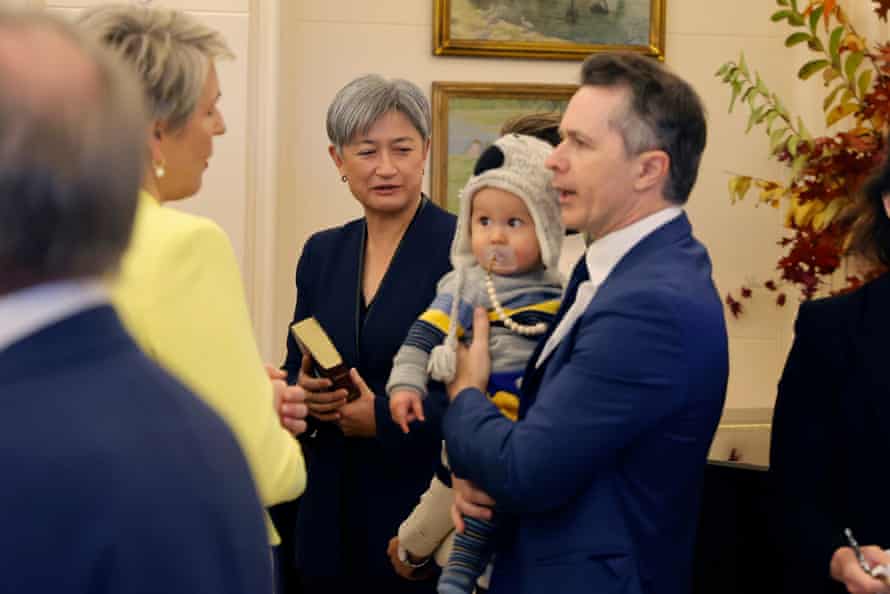 Ministers can choose to take an oath on Bible or religious text, or a secular affirmation. The likes of Jim Chalmers, Don Farrell and Amanda Rishworth brought their own small Bibles to the event; Tony Burke came to the front with a very large, ornate hardcover bible, which made an audible but soft thud as he placed it on the table to sign his paperwork. Bill Shorten held his small bible aloft, above shoulder-height, as he took his oath.
Each incoming minister received a round of applause as they shook David Hurley's hand and posed for photos, but the loudest clap was reserved for minister for Indigenous Australians, Linda Burney. A rousing round of applause greeted her swearing-in, as she wore a traditional kangaroo-skin cloak, with Hurley giving her a hug.
"You'd better stop or I won't be able to go on," Albanese joked, as the applause finally ended.
Love to see it.
Murray Watt is sworn in as minister for agriculture, fisheries, forestry and emergency management
Next up is Queensland senator Murray Watt, who will be minister for agriculture, fisheries, forestry and emergency management. It is his first time holding the agriculture portfolio.
Ed Husic, following Watt, will join cabinet for the first time in his career after previously shuffling aside on the frontbench for Kristina Keneally. He will serve as minister for industry and science, and is one of the first Muslim member of cabinet.
Clare O'Neil is lucky last for cabinet ministers. She replaces Kristina Keneally who was expected to be home affairs minister. She will also service as minister for cyber security. Previously, O'Neil was active in the aged care space, particularly throughout the pandemic.
Julie Collins sworn in as minister for housing, homelessness and small business
Julie Collins follows Clare. She will serve as the only Tasmanian MP in cabinet as minister for housing, homelessness and small business after serving as the agriculture spokesperson in opposition. She will be overseeing the shared equity scheme.
Michelle Rowland is next. She has been shadow communications minister since 2016 after entering office in 2010. She will retain the role, with oversight over the ABC and SBS.
Madeleine King, (another M!) follows. She will serve as minister for resources and Northern Australia while formerly holding trade in opposition.
Mark Dreyfus is sworn in as attorney general
Mark Dreyfus is next. Briefly serving as attorney general in 2013, he returns to the role nine years later.
He has faced calls to help free Julian Assange and will also have a hard task ahead with the national integrity mission.
Brendan O'Connor returns to skills and training which he also held in 2013 under Kevin Rudd, while Marles has taken his defence portfolio which he held in opposition. A veteran, O'Connor has served in the parliament for more than two decades.
Jason Clare follows, taking education from Plibersek. He received wide praise when briefly hopping in to the limelight while Albanese had Covid.
Linda Burney sworn in as minister for Indigenous Australians
Now Linda Burney is up, adorned in a beautiful kangaroo skin cloak. As minister for Indigenous Australians, she will work on the referendum for a voice to parliament and the implementation of the Uluru Statement from the Heart.
She is the first Aboriginal woman to serve in the role.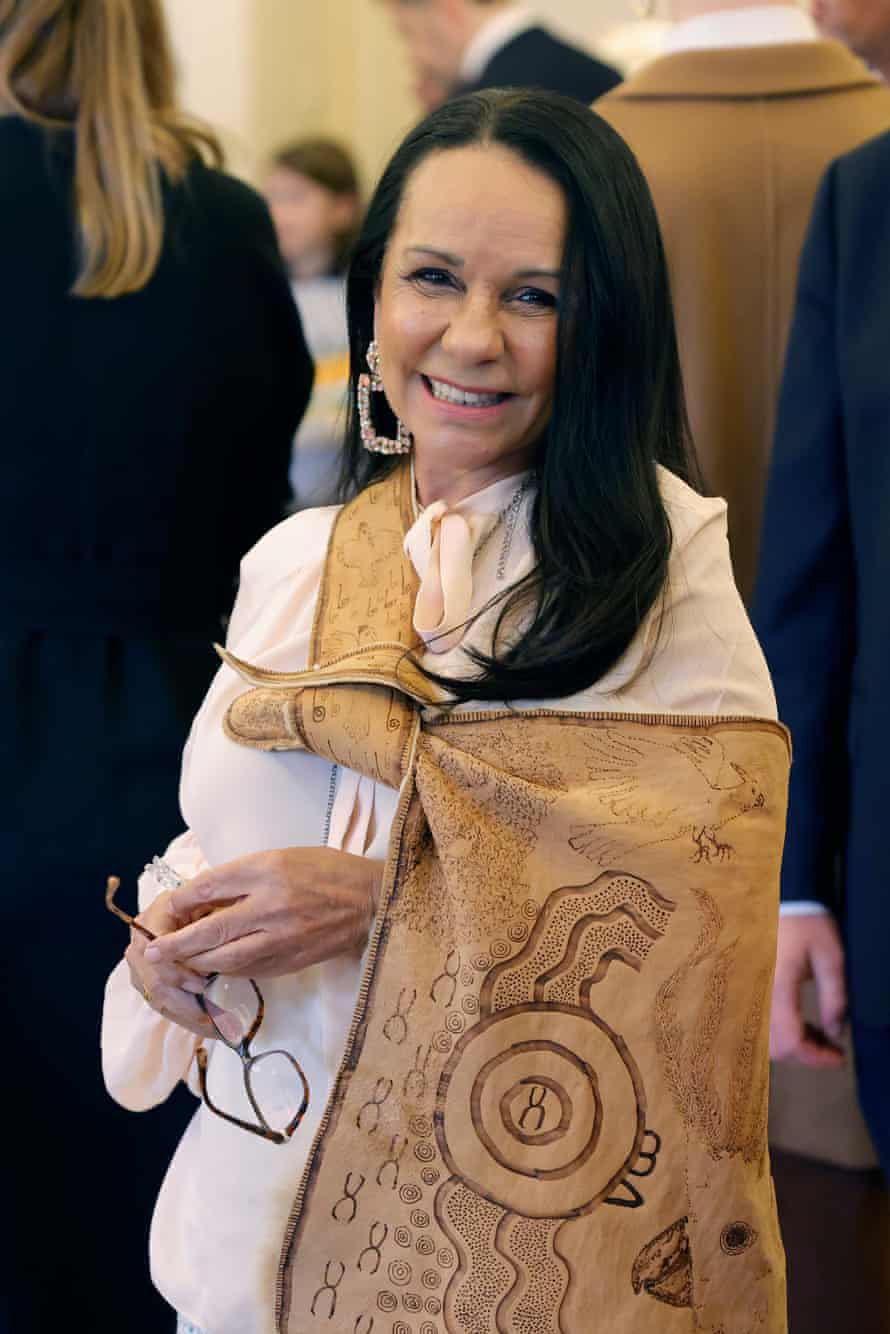 Catherine King sworn in as minister for infrastructure, transport, regional development and local government
Catherine King is up after Plibersek as minister for infrastructure, transport, regional development and local government. A woman of many hats!
Amanda Rishworth enters cabinet for the first time as minister for social services. She was first elected in 2007.
Former opposition leader Bill Shorten follows, who will work on the Royal Commission into Robodebt as minister for the NDIS and government services. This is a historic first and a huge area of passion for Shorten.
Mark Butler sworn in as health and aged care minister
Mark Butler follows. Previously serving as shadow climate change minister from 2013-2021, he has been moved to the health and aged care portfolio.
Chris Bowen jumps up afterwards, taking the climate change and energy portfolio after serving as Bill Shorten's shadow treasurer from 2013 to 2019.
As noted by the ABC, the order in which ministers are being announced is in the order of their seniority.
Next is Tanya Plibersek, who has contentiously been moved from her shadow education portfolio to serve as minister for environment and water.
Katy Gallagher sworn in as finance minister
Next to sign her commission is Katy Gallagher, who will serve for the first time as minister for finance, the public service and women.
South Australia's Don Farrell has been promoted to deputy Senate leader and follows her. Sky news describes him as "the godfather". He takes on trade and tourism.
Tony Burke is up after him, returning to cabinet as one of the most experienced Labor MPs. He will be minister for employment, workplace relations and the arts. Also, why is his bible so big?
Labor ministry swearing-in begins
The gang is gathered at Government House with governor-general David Hurley, who is swearing in the newly elected ministry.
Defence minister Richard Marles was first up to sign his commission, followed by foreign minister Penny Wong – the first foreign-born foreign minister of Australia – and treasurer Jim Chalmers.