With that, I will pass the baton on to Nino Bucci, to keep the sport metaphors flowing. He will keep you company until the final siren sounds.
Canberra might be greeting its incoming MPs with snowfall. Ready your toboggans on the parliament house hill!
The face of a jubilant prime minister.
Queensland records 4,397 Covid cases and 11 deaths
Queensland Health has released today's Covid update.
There have been 4,397 cases reported and, sadly, 11 deaths.
There are 359 people being treated in hospital with the virus including four people in ICU.
NSW Icac to hold pork barrelling forum
The New South Wales independent commission against corruption (Icac) will hold a forum examining whether the practice of pork barrelling could constitute corrupt conduct under the Icac Act 1988.
The forum, to be hosted by chief commissioner Peter Hall QC, will discuss whether the practice of pork barrelling is lawful and ethical, and whether it could constitute corrupt conduct and ministerial discretionary power in relation to grant funding.
The panel will also canvass whether regulation of grant funding programs by statutory instrument is necessary to ensure, in the public interest, that public money is only expended for public purposes, and the safeguards necessary to prevent breaches of trust.
The panel will be moderated by journalist and author Kerry O'Brien and will draw from experts including Prof Anne Twomey, Joseph Campbell, Dr Simon Longstaff, NSW deputy auditor general Ian Goodwin and Prof AJ Brown.
The forum will take place on Friday, 3 June.
Winds of up to 100 km/h are possible on Tasmania's King Island from this evening to early tomorrow morning as wild weather lashes large parts of Australia's east coast.
'It's been a while': emotional Albanese addresses Labor colleagues
Josh Butler
Anthony Albanese's first address to Labor's caucus proved a little challenging to a few new and even veteran MPs, who milled around Parliament House's cafe appearing a little lost as they tried to get to the government party room.
After winning the election, Labor moved from the opposition meeting room to the larger room reserved for government. Caucus chair Sharon Claydon, addressing the group of MPs, joked: "It's our first time in this room in a very long time."
Labor has assembled a display of photographs of not only their past leaders, but also what Claydon called a "wall of women" – pioneering female politicians including Julia Gillard, Linda Burney and Penny Wong.
Albanese was a few minutes fashionably late to the address, with Claydon vamping for time as she awaited his entrance from the prime minister's office. "He is just seconds away," she said after the second or third false start, to laughs from the room.
The packed room gave a standing ovation as Albanese walked in with deputy PM Richard Marles and foreign minister Wong. The PM hugged Fiona Phillips, the Gilmore MP still waiting for the final results from her knife-edge seat. Albanese and his senior ministers hugged and shook hands with the big group of new MPs, seated on the front row of the room.
"It's been a while," Albanese laughed, noting Labor was in the government party room for the first time in a decade. The PM said it was a privilege "we shouldn't take for granted", adding "I don't intend going back" to the opposition rooms.
Albanese pledged Labor would end the climate wars and introduce legislation for a federal anti-corruption commission this year – both to big cheers.
"We need to change the way politics works in this country," he said.
Leaning back into his favoured football metaphors about "kicking with the wind" in the "fourth quarter" of the election campaign, Albanese claimed the "umpires didn't really go with us" – seemingly a reference to negative media coverage.
"Maybe they don't have as much influence as they think, because we refused to go off track. We had a good story to tell," Albanese said.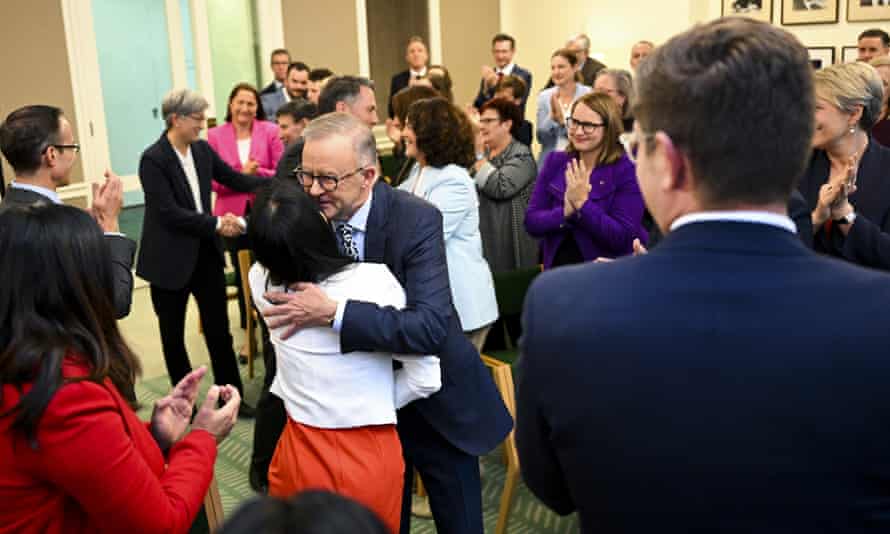 'It's a big deal,' Albanese says of being a Labor PM
Albanese concludes his speech on a note of humility, a quality echoed in his working class upbringing.
He instructs his colleagues to "keep your feet on the ground, but enjoy the journey", and laughs at the luck of "newbies" entering parliament at an optimum time, after Labor spent nine years in opposition.
Opposition is not fun. At all. At all. So enjoy being part of the government – a government that can make a difference, a government that will implement our policies and programs, a government that will bring people with us on the journey of change. Thank you for the incredible, incredible honour of being a Labor prime minister. It's a big deal.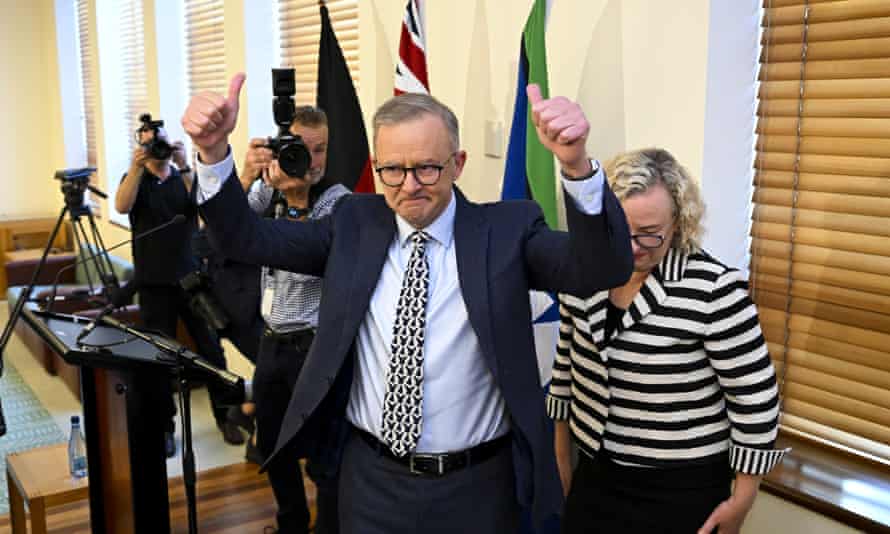 Albanese says it was his idea to launch the election campaign in Western Australia. Perth had never been the location of a major campaign launch before this year.
I want to [thank} Paul Ericsson, our magnificent campaign director … now, this room doesn't leak, of course, so one of the things that Paul wouldn't mind [you] knowing of course was when I said, 'I've got this idea' – it was a about a year ago – 'I've got this idea that we're going to launch the campaign in Western Australia.'

It's got to be said, not everyone was rapt … but wasn't that a good call in WA? So we have an opportunity to shape the future from this position.

We know the policies that we have in place, but I said on election night as well, the how is important. I'm serious about the how. We need to change the way that politics operates in this country. We need to be more inclusive. We need to be prepared to reach out. We need to be prepared to engage on those issues. We can do that in this parliament.
Parliament to return in last week of July
Albanese says parliament will be brought back in the last Tuesday of July. Before then, he will travel to Indonesia and return to Western Australia.
So you can plan your period between now and then … I will travel to Indonesia, a very important relationship that we have. After I travel to Adelaide … I'll be in Perth later on Saturday night and on Sunday as well to say thank you to the people who gave us support this time around. My objective is to not keep this room as it is. My objective is to grow this room.
Albanese says Labor 'wasn't intimidated by anyone' during campaign
Albanese also gives a shoutout to Fiona Phillips, who is in attendance though her seat hasn't officially been called.
Thanks to my good friend Fiona sitting up the back there quietly. Fiona ran a magnificent campaign. If she gets across the line, no one's allowed to call her Fiona anymore. We'll just call her 77.