Queensland's Covid wave peaked on 25 July, Annastacia Palaszczuk says
Speaking alongside chief health officer, Dr John Gerrard, the premier says the state has passed its Covid peak.
Queensland recorded 2,504 new Covid cases on Monday, with the seven day average steadily trending downwards.
Key events
Yesterday afternoon, the NSW SES ordered low lying areas surrounding Wagga Wagga to evacuate by the evening as the Murrumbidgee River continued to rise.
This is Wagga by drone today: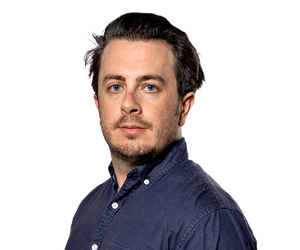 Josh Butler
Health Services Union welcomes government submission on aged care wages
Leading voices in the aged care sector have backed the federal government's submission calling for a wage increase for workers, with one major union claiming the workforce has been "exploited" for some time.
Unions have called for a 25% pay bump. The employment minister, Tony Burke, and the aged care minister, Anika Wells, didn't put a specific number on the government's submission, but the document argues workers have been "significantly" underpaid and said a payrise would help address Australia's gender pay gap.
The Health Services Union has welcomed the submission, while noting they still want the 25% increase.
HSU president Gerard Hayes:
After a decade of neglect the new government's recognition of the aged care workforce is a shot in the arm. For too long Australia has allowed a mostly female, insecurely employed workforce to be exploited and overworked.

We strongly commend Anika Wells and the Labor government for recognising this historic injustice.
The HSU also said aged care work has gotten more complex over time, as "community expectations of care have evolved" and Australia's population has aged.
Paul Sadler, CEO of the Aged & Community Care Providers Association, also backed the government's stance.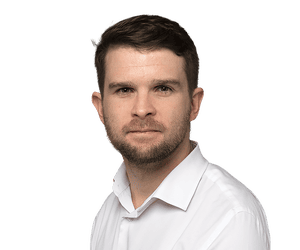 Christopher Knaus
Day three summary of the Barilaro inquiry
The Barilaro inquiry has wrapped up for the day after Investment NSW chief executive Amy Brown concluded her third day of evidence.
Here's what we learned this afternoon from both Brown and Barilaro:
Barilaro became frustrated at suggestions that he set about creating the New York trade role for himself when he first decided he was going to retire. He described it as a "disgusting slur" that wrongly made him out "to be corrupt". Labor MPs suggested the sequence of events that saw him named as the trade commissioner must make him "the luckiest man in NSW politics". Barilaro responded that he was the unluckiest because he'd lived through "hell" in the past six weeks.
Barilaro described himself as the "victim, not the perpetrator", in reference to flaws with the recruitment process. He said all he'd done was "apply for a job" and been selected by an independent panel. "What did I do wrong? I got offered a job and I accepted a job," he said.
The inquiry became heated when Labor MPs began asking about a former media advisor of Barilaro's, Jennifer Lugsdin. The inquiry heard may have had early information that the trade role was going to be advertised. Emails suggested she may have known of the role on 10 December. It wasn't advertised until 17 December, the inquiry heard. Barilaro and Lugsdin were in a relationship. The inquiry also later heard that Barilaro called up Investment NSW chief executive Amy Brown suggesting she consider Lugsdin for a media role in the agency. Brown said she later learned of the relationship through the media and asked for a conflict of interest declaration from the relevant labour hire firm. She said there was no evidence that such a declaration existed.
Amy Brown said there were clear errors in the recruitment process that led to Barilaro being selected as the New York trade commissioner. She said she offered him the job too early, before a panel report was concluded. She also slammed the decision to alter candidate rankings as "appalling". But she said ultimately, despite the failings, the best candidate was picked for the job.
Brown also gave damning evidence about the agent general role in London. The inquiry has been exploring the selection of Stephen Cartwright, a former chief of the state's business lobby, for that role. She said the candidate had made a salary package demand of $800,000, which is more than double what the premier earns. It would make the role the second highest paid in the NSW government. She refused the "ridiculous" demand, but said that Cartwright tried to go over her head to trade minister Stuart Ayres.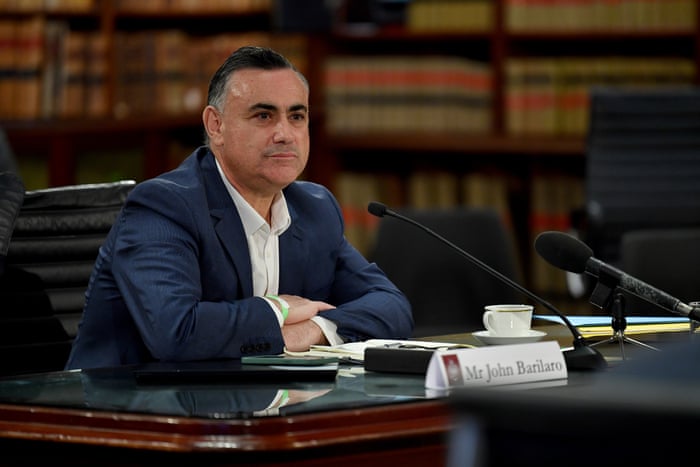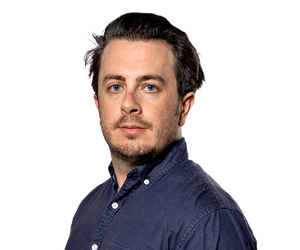 Josh Butler
Albanese government says raising aged care wages would help narrow gender pay gap
The federal government has asked the Fair Work Commission to raise aged care workers' wages in part because it would "contribute to narrowing the gender pay gap", arguing that there has been a "gender-based" undervaluation of the work done by aged care staff.
Unions representing aged care workers have asked for a 25% pay increase. As expected, there is no specific increase recommended by the government in its submission to the FWC's work value case – but there is a very pointed note that Labor believes the sector has been "significantly" underpaid and that the government backed a pay rise.
"The commonwealth submits that the work value of aged care workers is significantly higher than the modern awards currently reflect," said the 41-page submission, signed off by the Australian government solicitor and shared by the employment minister, Tony Burke, this afternoon.
The commonwealth said it "will provide funding to support any increases to award wages made by the commission in this matter", and was keen to "work with the commission and the parties regarding the timing of implementation of any increases".
In a statement from Burke, the health minister, Mark Butler, and the aged care minister, Anika Wells, the government says wage rises are crucial to get more people working in aged care.
If we don't start paying aged care workers properly we won't be able to attract and retain enough staff to care for our loved ones as our population ages.
Butler said a wage increase will "give nurses and carers more time to care."
The submission says the work done by aged care staff has been undervalued due to a historical under-appreciation for "social and emotional and interpersonal skills", arguing that "the undervaluation is gender-based" because the industry is dominated by female workers.
The document read:
The commonwealth notes a decision to increase minimum award wages in care classifications in the awards would deliver significant benefits to the women working within this highly feminised and undervalued sector, and, by increasing the relative earnings of a female dominated sector, would contribute to narrowing the gender pay gap.
It also notes that the government plans to "explicitly add gender pay equity as an object of the [Fair Work] Act".
Wells went further in her statement, specifically highlighting the gender pay issue at the heart of the submission.
One of the main causes of the gender pay gap is low pay and poor conditions in care sectors like aged care, where the majority of workers are women. Increasing wages in aged care is essential to ensuring that men and women are paid equally.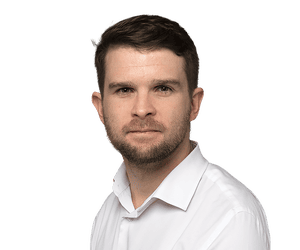 Christopher Knaus
Stephen Cartwright messaged Stuart Ayres over renumeration for London trade role, Brown tells inquiry
The chief executive of Investment NSW, Amy Brown, has told the inquiry that Stephen Cartwright, the agent general in London, went over her head over concerns about his salary. He had wanted a package of $800,000 a year, she said.
Brown had resisted agreeing to the "ridiculous" salary. She said Cartwright messaged the trade minister, Stuart Ayres, on 23 March to seek his intervention on his remuneration. Brown said it was "highly inappropriate" and almost unprecedented.
The good thing about it was that minister Ayres contacted me and said 'look you can do what you like, because Cartwright is your employee. I just want to give you a heads up I've got this message, it might be good to benchmark it against other states'.
Brown was asked about a The Sydney Morning Herald report that the premier, Dominic Perrottet, spoke to the transport minister, David Elliott, about potentially taking the agent general role.
The paper reported that Perrottet described Cartwright as "a problem".
Brown said she had never had a direct discussion with Ayres in which he told her that he had raised Cartwright as a "problem" with his colleagues. But she did say Ayres was intuitive and had probably picked up there was a difficult relationship between her and Cartwright.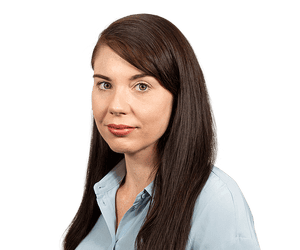 Melissa Davey
Every day, we post a national summary of Covid numbers, including the death toll across each state and territory.
There were 7,100 Covid deaths in the first seven months of 2022, according to new research from the Actuaries Institute, making the virus the third most common cause of death so far this year.
Daily surveillance reports from state and territory health departments recorded 9,550 Covid-19 deaths from the start of January until the end of July, including 1,934 deaths in July alone.
Read Melissa Davey's story here:
National Covid summary: 14 deaths reported
Here are the latest coronavirus numbers from around Australia today, as the country records at least 14 deaths from Covid-19:
ACT
Deaths: 1
Cases: 509
In hospital: 144 (with 5 people in ICU)
NSW
Deaths: 4
Cases: 7,648
In hospital: 2,236 (with 59 people in ICU)
Northern Territory
Deaths: 1
Cases: 176
In hospital: 32 (with 2 people in ICU)
Queensland
Deaths: 0
Cases: 2,504
In hospital: 667 (with 26 people in ICU)
South Australia
Deaths: 7
Cases: 1,625
In hospital: 322 (with 10 people in ICU)
Tasmania
Deaths: 0
Cases: 455
In hospital: 84 (with 1 person in ICU)
Victoria
Deaths: 1
Cases: 4,911
In hospital: 657 (with 37 people in ICU)
Qantas asks executives to volunteer to fill in as baggage handlers

Senior executives at Qantas could trade their high-profile positions to work as ground handlers as part of a plan to combat labour shortages, AAP reports.
The embattled airline's chief operating officer, Colin Hughes, told staff in an internal memo they are seeking expressions of interest for a contingency program over a three-month period:
People who respond to the EOI will be trained and rostered into the ramp environment at Sydney and Melbourne airports. These people will support our ground handling partners, who are managing the Qantas operation, over a three-month period from mid-August.
At least 100 managers will be recruited to sort and scan bags and transport luggage. Hughes added, "there is no expectation that you will opt into this role on top of your full-time position".
It comes after at least 1,600 baggage handlers were sacked during lockdown, with the service outsourced to contractors, a decision the federal court ruled was unlawful. Qantas previously vowed to appeal the decision.
The once highly regarded airline recently apologised after a litany of complaints from frustrated passengers who have endured delayed and cancelled flights, long queues at airports and lost baggage in recent months.
The airline is hoping to address the problems by scheduling fewer flights in the next month and hiring more staff.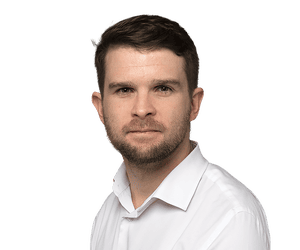 Christopher Knaus
Inquiry into recruitment processes for NSW public service roles continues
Back in the Barilaro inquiry, we mentioned briefly some questions about a media advisor who John Barilaro was in a relationship with.
Barilaro had called Investment NSW chief executive Amy Brown, suggesting that the media advisor, Jennifer Lugsdin, be considered for a media job at Brown's agency.
They had only spoken three times on the phone in total, Brown said. The inquiry earlier heard evidence that Lugsdin may have had early warning that the US trade job was going to be advertised.
Emails show that her account received an email from the head of communications about the decision to push ahead with advertising the role. That was on 10 December. The actual advertisement wasn't made publicly until 17 December, the inquiry heard.
The inquiry has spent much of the last hour examining an appointment to the London agent general role and a candidate's demands for an $800,000 package to perform the job, which would make it the second highest paid role in the NSW public service, more than double what the premier receives.
Brown said she was concerned about the salary demand, saying it was not realistic and was "ridiculous". She tried to lower the salary.
The federal government's submission to the Fair Work Commission's aged care wages inquiry has been made public
It says the work value of aged care staff is "significantly higher" than what current wages reflect and calls for a pay increase, without nominating a specific figure by which wages should be increased.
NSW transport minister backs down from contest for Liberal party deputy position
That's a backtrack.
The NSW transport minister, David Elliot, will not run for deputy leader of the Liberal party, outlets are reporting.
Earlier today the treasurer, Matt Kean, confirmed he would put his hand up for the role.
Last week, Elliott announced he was running; however, he told News Corp he'd withdraw from the contest if Kean also stepped aside for a woman to fill the role.
Brown's latest revelation at the inquiry into John Barilaro's appointment to the New York trade commissioner role:
Meanwhile, foreign minister Penny Wong has been meeting with the US deputy secretary of state Wendy Sherman following her WW2 memorial visit to the Solomon Islands.
Sherman says the US Australia alliance is "global in scope", while not commenting publicly on building tensions between China and Taiwan following Nancy Pelosi's visit.