7.11pm EDT19:11
Retail billionaire Solomon Lew has bowed to political pressure and will return some of the jobkeeper subsidy received by his Premier Investments empire.
In a statement, Premier said it's board, where Lew is chair, had decided to "refund the net jobkeeper benefit of $15.6m to the Australian Tax Office".
However, it did not disclose the total amount of jobkeeper the company received – as we've previously reported, industry sources estimate it could be as much as $100m.
The company said it had previously "quarantined" the $15.6m "to fund the wages of employees who may be stood down under future state government mandated Covid-19 lockdowns".
It said it used the money to pay staff during the recent snap lockdowns in Queensland and Western Australia.



Critically, following the lockdowns and upon reopening, increased trading from the combined states has fully offset the cost of supporting our teams through these lockdowns …

Therefore, the 'jobkeeper 1' funds were ultimately not required to support our teams.
Lew's empire has been under intense pressure to repay jobkeeper after its profit surged during the pandemic and it paid tens of millions of dollars in dividends to Lew – you can read our previous coverage here:
Updated
at 7.17pm EDT
6.53pm EDT18:53
Paul Kelly says jail time for returning Aussies was decided 'by law' not from explicit health advice
Updated
at 7.02pm EDT
6.46pm EDT18:46
Dutton's department reviews Port of Darwin's lease to Chinese company
The Australian government has taken a step towards potentially cancelling the long-term lease of the Port of Darwin to a Chinese company, in line with a signal sent by Scott Morrison last week.
The Department of Defence is now reviewing the matter, the defence minister, Peter Dutton, has confirmed in an interview with the Nine newspapers, published today.
Dutton said cabinet's national security committee – which is chaired by Morrison and includes senior ministers – had asked the defence department to "come back with some advice, so that work is already under way".
It follows concerns by both sides of politics about the Northern Territory government's decision in 2015 to grant a long-term lease of the Port of Darwin to a Chinese company, Landbridge. The company did not respond to a request for comment last week.
In response to a question about whether forced divestment of the port was on the table, Dutton told the Nine papers the government needed to wait for the advice and "we can look at options that are in our national interests after that".
The comments come after Morrison's visit to the Northern Territory last week, when the prime minister hinted the 99-year lease of the Port of Darwin could be reconsidered on security grounds. When asked about the port, Morrison said he would take seriously any advice from the defence department or security agencies "about the national security implications of any piece of critical infrastructure".
Dutton – a conservative who been making waves since being appointed defence minister a month ago – and the government are increasingly adopting tougher rhetoric on China, which we explored in this piece last week.
Dutton also used the Nine interview to defend his remarks that the risk of war over Taiwan could not be discounted, saying China had been "very clear about their strategy, their approach and their desires and so pretending it's not being said or turning a blind eye to it is not in our national interest".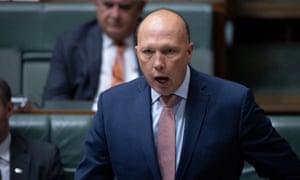 Updated
at 6.57pm EDT