Key events
Melbourne neo-Nazi clashes – pictures
Here are some images made available by news agency AAP taken by photographer James Ross during clashes between opposing anti-transphobia protesters and neo-Nazis in Melbourne today.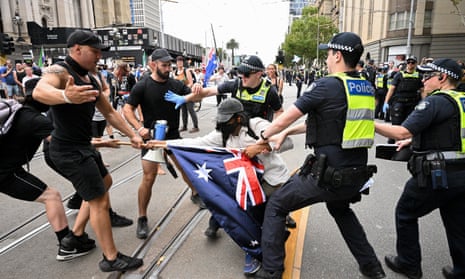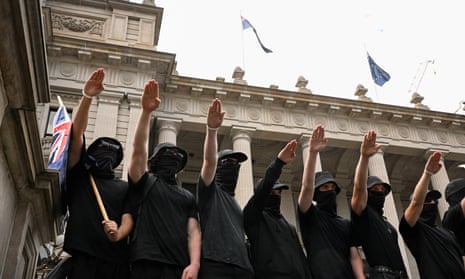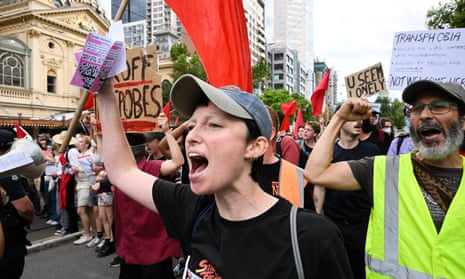 More on those clashes in Melbourne.
Some people on Spring Street have been sharing scenes on social media showing black-clad marchers walking in front of Parliament House making Nazi salutes and holding Australian flags.
Other footage shows police on foot and on horseback trying to keep groups apart.
Transgender rights protesters clash with neo-Nazis in Melbourne
Transgender rights protesters have clashed with neo-Nazis in Melbourne's city centre, with a major road blocked to traffic, according to a report by AAP.
About 30 people from the neo-Nazi National Socialist Movement marched along Spring Street near the Victorian parliament on Saturday afternoon, holding signs calling transgender people offensive names and performing Nazi salutes.
The group clashed with hundreds of others who were rallying for transgender rights.
The pro-trans group held signs that included messages such as "women aren't defined by their bodies".
Police, including mounted officers, worked to keep the two groups separated. Spring Street remained blocked to traffic in both directions early on Saturday afternoon.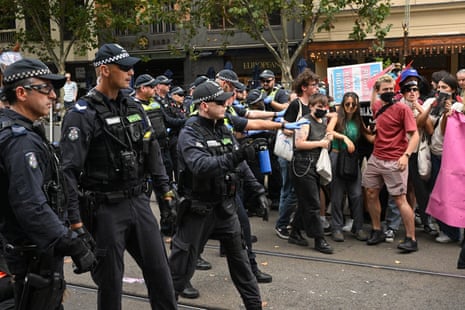 Magnitude 4.7 earthquake hits New Zealand
Thousands of Kiwis from Auckland to Queenstown have reported feeling a magnitude 4.7 earthquake that hit near Christchurch on New Zealand's South Island.
GeoNet reduced the earthquake classification to "light" after originally classifying it as "moderate".
Community urged to look after one another as NSW heats up
As an unusually long heatwave for autumn grips New South Wales, the state's police have urged the community to look after each other.
Temperatures are expected to max out in central Sydney at 31C, but parts of western Sydney will hit 40C.
Here's the deputy commissioner for emergency management, Peter Thurtell:
While warmer weather may not concern some people, the heat can be especially dangerous for more vulnerable members of the community, including babies and children, older people, or those living with an illness.

If you know someone who may need assistance – particularly if they live alone or are socially-isolated – check-in on them this weekend and make sure they are doing okay and have what they need.
The RSPCA has also urged pet owners make sure their animals have access to plenty of fresh, cool water as well as shade.
While Surf Life Saving Australia is asking people heading to waterways to take care, after a record number of deaths on or around the water this summer.
Residents in Kennett River urged to evacuate as extreme fire rating declared
Residents in Kennett River, located along Victoria's Great Ocean Road, are being urged to evacuate as an extreme fire rating is declared.
The bushfire, burning 0.3km north of Kennett River is under control, but the Bureau of Meteorology has warned wind gusts in the area will reach between 60 and 70km/h.
Vic Emergency predicts the bushfire could impact the area between now and 3pm.
The Age reports the state is today seeing the most dangerous fire conditions since the black summer bushfires three years ago.
The warning for Kennett River comes after residents in the Great Ocean Road's Eastern View and Memorial Arch areas were recommended to evacuate earlier due to bushfire risk.
NSW premier says PM 'out of touch' on Kids Future Fund
A week out from the NSW state election, the premier, Dominic Perrottet, has slammed Anthony Albanese's criticisms of the Liberals' signature Kids Future Fund as "out of touch", AAP reports.
The prime minister, who has been campaigning heavily alongside the NSW Labor leader, Chris Minns, said the superannuation-style fund for children would create a greater divide between rich and poor.
Perrottet, who has previously been complimentary about working with Albanese on national cabinet issues, lashed out on Saturday saying "[Albanese] is absolutely wrong and that is the Labor way".
Perrottet told reporters in the marginal western Sydney seat of Penrith:
There is no greater investment that we can make than in our children's future.

For the prime minister to come out yesterday and say that he's against, like NSW Labor, setting up a future fund account for our children shows how out of touch he is with the challenges that families are facing today.
Parts of Victoria's Great Ocean Road urged to evacuate
People located in the Great Ocean Road's Eastern View and Memorial Arch areas in Victoria are being urged to evacuate after an extreme fire rating was declared.
Vic Emergency reported a bushfire 0.3km north of Eastern View that is under control, however, the Bureau of Meteorology has issued a weather warning for wind gusts between 60 and 70km/h in the area.
The wind increase was expected from 10am and Vic Emergency warned it may increase the fire behaviour.
Vic Emergency also issued a severe weather warning for damaging winds in Victoria's central, north central, and south west districts.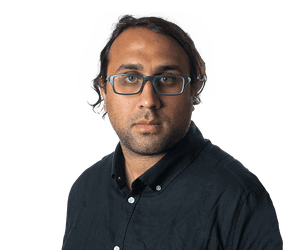 Josh Nicholas
Passport wait times improve
The Australian passport office has recovered from the pandemic shock with 96% of routine passports issued within the standard 10 business days in February, compared to just 46% a year ago, new data from the Department of Foreign Affairs and Trade shows.
Passport applications surged after Australia's international border reopened in early 2022. Processing delays became so pronounced that some applicants waited months or queued outside passport offices for hours. The number of applicants paying an extra $225 for priority service in 2021 was double pre-pandemic levels.
The department is encouraging Australians to continue applying for passports well before they need to travel, with the passport office estimating around 2 million Australians did not renew their passports during the early years of the pandemic, and "most" have yet to reapply.
Passport applications are still around 25% higher than pre-pandemic levels, and March and April are generally peak periods for passport renewals.
A department spokesperson said:
Customers should continue to plan ahead and allow at least six weeks to apply for or renew their passport, and longer if they are applying for a child passport.
Truck crashes into Sydney home
Two people who were in a truck that crashed through part of a house in Sydney's south this morning have had a "fortunate escape", the Sydney Morning Herald reports.
The cabin of the truck, owned by a tree-lopping contractor, was hanging over a 10-metre cliff after the truck crashed through the unoccupied home.
Fire and Rescue NSW Superintendent Adam Dewberry said the truck, which had a chipper trailer on the back, appeared to have lost control after it went down a steep hill at Weerona Place, Caringbah South.
Firefighters rescued the man and woman who were trapped in the front of the truck. Both appeared to have sustained no injuries, however were taken to hospital as a precaution.