11.02pm EDT23:02
Australia needs to manage China relationship and diversify export markets – report
Australia needs to manage the increasingly complex relationship with China, even as the government seeks areas to diversify its export markets, according to a new report out this afternoon.
The Asia Taskforce – which includes the Business Council of Australia and Asia Society Australia – calls for a target of boosting Australia's exports to 35% of GDP by 2030 (up from 29% in 2019).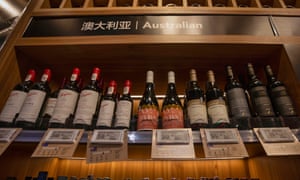 The report says Australian business now "stands at a crossroads". It says not since the 1970s, when the UK turned towards Europe, "have we witnessed a major re-alignment in how we trade and invest in the world".
The taskforce, which also involves consultants PwC and the University of Sydney's business school, argues the disruption of Covid-19 also brings forward stark choices, as "protectionist policies that seemed unthinkable a year ago are creeping back".



Popular support for the open economy cannot be taken for granted. Retreating to old familiar relationships in western markets, falling behind in Asia literacy and failing to build connections with new Asian business partners should not be seen as a serious default choice when consumption in Asia will likely fuel future global growth.
The report backs the need to diversify Australia's export markets, but says this does not mean abandoning the economic relationship with China, the largest trading partner. It says diversification for Australia means trading with China will also build up other relationships in the region.
The report – titled A second chance: How Team Australia can succeed in Asia – says that "learning to navigate a more complex relationship with China is imperative and efforts to ensure both countries engage constructively must be a priority".
Other recommendations include adopting a "Team Australia" approach to developing new opportunities; play to our strengths by adopting country sector strategies; rebooting Asia literacy; and championing the talent in our Asian-Australian and diaspora communities.
The trade minister, Dan Tehan, is expected to launch the report at an event in Canberra later today.
Updated
at 11.20pm EDT
9.27pm EDT21:27
Laming to be investigated by electoral commission over 30 Facebook pages
The Australian Electoral Commission has confirmed that it will investigate Liberal National MP Andrew Laming over more than 30 Facebook pages that he operates without any disclosure of his involvement.
As reported by us on Tuesday, Laming has set up dozens of Facebook pages under the guise of community and news groups, including one that poses as a fake education institute.
According to the Australian Electoral Commission, political authorisation is required for "information that is a matter communicated, or intended to be communicated, for the dominant purpose of influencing the way electors vote in a federal election":



This includes, but is not limited to, a communication that expressly promotes or opposes a candidate, political party, member or senator.
The disclosure laws, which were updated after the 2016 election, also explicitly include social media posts, requiring authorisation details either in the message or through the page's biography details.
Laming is on leave for clinical and empathy counselling after revelations that he stalked two Brisbane women online and took a photograph of a woman's bottom with her underwear exposed.
You can read Sarah Martin's story that broke this news below:
Updated
at 9.44pm EDT