Key events
Over 20 emergency flood warnings in NSW
This is the latest overall update on flood warnings in NSW, put out by the SES 12 hours ago:
Australians need to remember export earnings from LNG: Birmingham
Opposition leader in the senate, Simon Birmingham, and Guardian Australia's political editor Katharine Murphy have both followed the industry minister on ABC Radio.
Birmingham said Australia needs to not only look at gas prices but also the export earnings from the country being a major LNG player.
Murphy says that's an important point but that Australians increasingly feel they're not getting a fair share of that export income, when Australian tax payers after all own the resources.
Gas supply not a problem, 'glut of greed is', industry minister says
Husic:
This is not a shortage of supply problem; this is a glut of greed problem, that has to be basically short-circuited and common sense prevail.

The pricing mechanism is the one that I think needs to be seriously examined.
ACCC looking at mandatory code of conduct for gas companies, minister confirms
Ed Husic says:
The LNG exporters are offering gas to the domestic market at prices they couldn't reasonably expect on the international market.
ABC Radio asks the industry minister about reports that intervention is likely to take the form of a mandatory code of conduct and a domestic price cap. He replies:
We have the ACCC looking at that [code of conduct] and that code of conduct is to help better guide the way in which these contracts get negotiated … in terms of the other areas, we want to work through that internally.
Asked about whether the government intervention would be temporary, Husic said his preference would be to improve the bargaining framework itself and the way contracts are negotiated.
Husic said the treasurer, Jim Chalmers, is looking at the option of oil and gas taxes:
If you look at what the treasurer has said over the last few days, he is examining those type of options and again that will be in the mix of things he thinks through.

I think the bigger focus long-term is the price mechanism.
Government must intervene because gas companies 'tone deaf', Ed Husic says
Ed Husic says the "reality" is that government does need to implement reforms because of the behaviour of gas companies:
The market the way it stands, the LNG exporters and their associates … they've got influence of 90% of the proven and probable reserves in this country.

So, their view is they can keep doing what they've been doing.
RN Breakfast host Patricia Karvelas:
What does it demonstrate that after signing the agreement with the government, prices are higher in some cases?
Husic:
To my mind, it is saying they are not taking this issue seriously. They are not picking up the signals and they're completely tone deaf to the view that is being expressed publicly.

That's why we've got to a point where we are now forced to consider a wide range of interventions to get a better deal, because these companies are just not doing the right thing.
Husic said he's "happy to be scratched off [gas companies'] Christmas card list".
Gas prices 'just as high, if not higher', industry minister says
As the prime minister's comments last night show (see today's first blog post), pressure is piling up on the government to help bring down power bills before the end of the year.
Industry and science minister Ed Husic is speaking to ABC Radio about the government raising the prospect of regulatory intervention to bring down energy prices:
We're very focused on delivering a suite of reforms that we think will help bring that downward pressure on households.

Manufacturers … need to see a better situation in terms of behaviour out of these gas companies, because I'm already picking up evidence that the contract offers post the heads of agreement that we'd signed are just as high, if not higher than what was the case before.
NSW flood threat spilling over into Victoria
Tim Wiebusch from Victoria SES:
We saw record rainfall here in Victoria during the month of October and probably no surprise in that we also have seen our busiest month on record for SES with over 13,689 requests for assistance …

A number of the southern New South Wales rivers are starting to converge now on the Murray River and so we're asking all the Murray River communities, in particular, to now be flood-ready …

We're seeing the major flooding still occurring in and around Echuca all the way through to Torrumbarry. We're going to see in the coming days that major flood water start to reach Swan Hill on Monday next week and peaking in the middle of next week but it will stay high for quite some time.

And then as those New South Wales rivers, and also the Murrumbidgee join the Murray, we're going to see locations like Boundary Bend and all the way through to Mildura reaching minor flood levels at the end of next week but it will take until the first week of December before we'll actually see potentially major flooding in and around Mildura.
Forbes braces for biggest flood in 70 years
Flooding is still occurring in New South Wales and Victoria. ABC News Breakfast is speaking to SES representatives in both states.
Ashley Sullivan from NSW SES says:
It is a long list of rivers in flood in New South Wales, with our greatest concern at the moment being for the Lachlan River at Forbes. We are expecting major flooding in the next couple of days equivalent to probably the 1952 flooding in that area. And, although we have seen flooding in Forbes in recent months, this flooding will be higher than what we have seen in any of those floods …

Moving around the state, we have the Namoi River, particularly around Gunnedah, where we're seeing again major flooding. Down at the Murrumbidgee, we got Tummut, Gundagai, Wagga, Hay and Cootamundra. Our particular concern there is around Wagga where we have evacuation orders current and we're currently out door knocking those communities.

The Barwon-Darling River systems, where Lightning Ridge and Walgett have now become isolated from significant flooding in that area and that will be isolated and see that flooding for months to come. Along with down on the Murray River system, down around Moama where all that water is heading from Victoria and New South Wales.

So about 431 [rescues] in the last 24 hour, 15 of them flood rescues.
Government push to move DV focus from victim-survivors to perpetrators
Amy Remeikis
Amanda Rishworth wants to flip the script.
Having released the national plan to end violence, the social services minister is pushing for the focus to move from victim-survivors to perpetrators.
Rishworth wants a national research project on perpetrator behaviour to answer the question of why it happens as part of holding perpetrators accountable for their own actions, rather than questioning survivors about theirs.
The minister is addressing the National Press Club to talk more about the plan and the goal for perpetrators to be held accountable.
Some extracts from that speech have been released ahead of time:
Accountability, in part, is ensuring victim-survivors are never being held responsible for calling out the violence they face.

It's ending the rhetoric of 'why didn't she just leave?' and shifting it to 'why is he choosing to act in this way?' It's an improved community understanding and social expectation that we call out sexist language and sexist behaviour – wherever it happens.

Think about it – and challenge yourself to answer honestly – if your work colleague was in a relationship where he was treating his partner disrespectfully, and you witnessed it, would you speak up? Would you call him out, or support him to change his behaviour?
Rishworth says to respond fully and meet the plan's goal of ending family and domestic violence and sexual violence within a generation, evidence-based research is crucial.
Significant work must be done on how we collect data on these indicators of success, to ensure we are making progress.

For example, we need to measure more than intimate partner violence. For too long our understanding of domestic, family and sexual violence has been viewed through the narrow lens of intimate partner relationships.

Our understanding has grown and, as such, our measurement tools need to be fit for purpose.
For that, Rishworth argues, we need to have unified data across all states and territories and a national research project on the behaviour which causes men (and all the evidence says it is mostly men who are the perpetrators) to respond with violence.
Too often, the evidence collection focuses on victim-survivors, not on those who choose to use violence, which is a problem we must address.
There is an announcement as part of this speech but her office said that will remain under wraps until she delivers it just after noon.
We'll keep you updated.
Jason Clare unveils $328m teacher workforce plan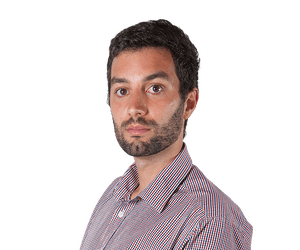 Paul Karp
The education minister, Jason Clare, will on Thursday release a draft national teacher workforce action plan, with some details in a speech to the Australian Primary Principals Association.
Clare will announce $328m of commonwealth government funding, including:
$159m to train more teachers

$56m for scholarships worth up to $40,000 each to encourage the best and brightest to become teachers

$68m to triple the number of mid-career professionals shifting into teaching

$10m to boost professional development,

$10m for a campaign to raise the status of the teaching profession

$25m for a teacher workload reduction fund – to trial new ways to reduce the workload on teachers and maximise the time they have to teach
Not all of this is new money. Budget paper No 2 outlined $310m over nine years for a similar set of measures including the scholarships, which were a Labor election commitment. But the campaign and the teacher workload reduction fund look new.
In a draft of the speech, seen by Guardian Australia, Clare says:
Something like 30 to 50% of teachers leave in the first five years. A lot of really experienced mid-career teachers are leaving too. Not retiring – just resigning. There is no one reason why but one of the reasons is workload. They are burnt out. The Productivity Commission report from a few weeks ago, told us what I am sure you already know. Australian teachers work longer than their counterparts overseas, but less than 40% of that is face-to-face teaching. So, not enough students going in, not enough coming out, and too many teachers leaving the profession they love. That all comes together to create a teacher shortage crisis.
There's no mention in the speech of the NSW government's proposal to pay skilled teachers more to stay in the classroom, which education ministers discussed in August. We'll be looking for that when the detail of the plan is released.
And welcome to our Guardian Australia live blog.
The prime minister Anthony Albanese has defended his government's decision not to offer cash handouts to those struggling to pay their energy bills overnight, saying it would only make inflation worse.
In a speech at the Australian-Melbourne Institute Outlook conference last night, Albanese said:
My colleagues and I understand there are many people feeling the pain of rising prices, especially off the back of a decade of stagnant wages.

And the easy option would have been for us to funnel these savings straight into a 'cash splash', a one-off giveaway to buy a headline. Cheap politics and hugely expensive economics.

Instead of helping households, it would only add to the inflationary pressures that are eating away at family budgets and devaluing wages.
Albanese vowed his government was working with state and territory governments, as well as the private sector to "make sure that we have fixed [power] supply and we need to fix price in the short term as well."
Around the country, thousands of Australians took to the streets of towns and cities last night in vigils for the Indigenous teenager Cassius Turvey, who was allegedly murdered in a Perth suburb last month.
Mechelle Turvey told a vigil in the city that her son Cassius was the "heart and soul of the community", while in Sydney an estimated 3,000 paid their respects to Cassius and the family with a smoking ceremony, speakers and a moment's silence.
Our reporter Sarah Collard was in the crowd and has this report. Cassius is also remembered by Mechelle in today's Full Story podcast.
The economy is still front and centre, specifically the ups and downs of the housing market. The rental market is coming down from "unprecedented" highs earlier in the year but that doesn't mean the market is going to swing in favour of tenants any time soon, experts have warned.
Meanwhile, a study shows that negative gearing will cost taxpayers $20bn a year and Greg Jericho asks whether the RBA will keep hiking rates if house prices carry on falling.
A new wave of Covid-19 infections driven by two new Omicron variants are set to hit New South Wales, the state's chief health officer, Dr Kerry Chant, will warn today, with transmission of the virus predicted to increase in coming weeks. Here's what we know about the new subvariants.
Flooding continues in inland NSW with over 20 warnings across the state, including 13 emergency warnings with major flooding expected at Wagga Wagga, Forbes, and Gunnedah.
On with the day.
There are some stunning pictures of last night's vigils for Cassius Turvey around the country. Here are a few: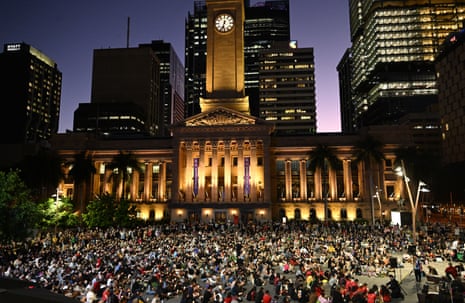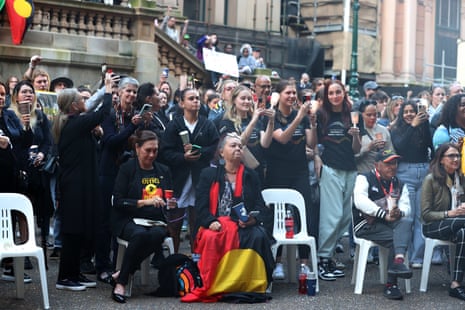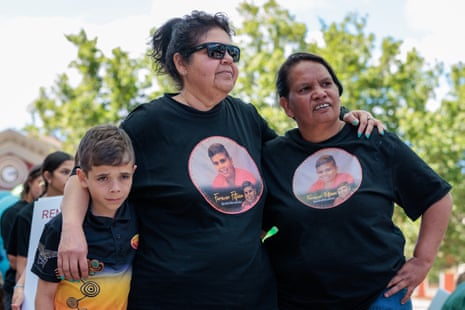 There are more pictures here: