Key events
Parliament's back – here is Amy Remeikis's take on week one
So, this week marked the first for the 47th federal parliament and a lot happened, from first speeches to a return to the sparring of question time and a smoking ceremony.
To take you through it all, here is Amy Remeikis with her breakdown:
Covid vaccine third dose take-up has 'stalled to an alarming extent'
The federal health minister, Mark Butler, has conceded that take-up of the third dose of the Covid vaccine has "stalled to an alarming extent".
In a statement, Butler said that while more than half a million people are getting the fourth does a week, about five million people have "effectively tapped out of the vaccine program".
There are about five million Australians who effectively have tapped out of the vaccine program. These are five million Australians for whom it's been more than six months since they had their second dose, but still haven't had their third.

In spite of an information campaign that we've rolled out, information campaigns that the states have rolled out, some of them very clear that two doses is not fully vaccinated. That third dose rate creeps up only about 1% every week.
Western Australia records 13 Covid deaths and 4,034 new cases
Western Australia is today reporting 13 new deaths overnight, and 4,034 new Covid cases. There are 417 people in hopsital with the virus, and 15 in ICU.
Thanks Michael McGowan for covering my lunch break, Mostafa Rachwani back with you, with much still going on.
Handing you back to Mostafa Rachwani for the afternoon.
Today is 25 years since the Thredbo disaster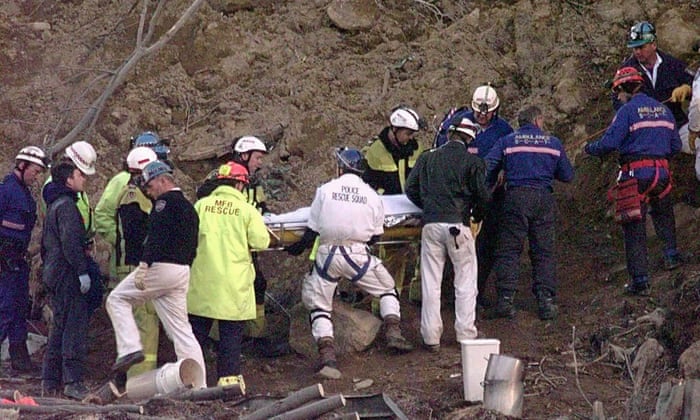 Shortly before midnight a quarter of a century ago, a deadly landslide hit the popular Thredbo ski resort, killing 18 people.
Mark Pigott remembers the cries of black crows breaking a heavy silence after the Thredbo disaster.
Pigott, an Olympic skier, watched from afar as rescue workers searched through rubble in the days after the landslide in July 1997.
He told AAP:
Whenever they thought they could hear something, they went 'hush hush hush'.

You could hear a pin drop across the resort. Often the only thing you could hear was the black crows.
Pigott, who competed in acroski at the 1992 Winter Olympics, was in Thredbo and Perisher for training at the time of the landslide, which decimated two ski lodges just before midnight on 30 July.
While staying at the nearby town of Jindabyne, Pigott was woken by a phone call from his father at dawn.
All he said to me was, 'Where are you?' I said, 'Jindabyne why?' And he said, 'Don't worry, you'll find out'.

I ran and put on the TV and, sure enough, there it was.
Today marks 25 years since the landslide, one of the deadliest natural disasters in Australian history.
After sunset, skiers will commemorate by carrying flares down the slopes, a longtime weekend winter tradition at the resort.
Ski instructor Stuart Diver was the only survivor after being trapped in a small air pocket under one of the lodges for several days. His wife Sally was one of the victims.
Diver, who is now Thredbo's general manager, says Australians continue to have an emotional attachment to his story. Last year he told the Better Than Yesterday podcast:
Everyone remembers where they were on that day, when the landslide ended.

I'm really no different to anyone else, I just happened to go through an unfortunate situation and come through the other end.
Via Nine News in Brisbane.
Uluru Statement campaigners welcome PM's Indigenous voice plans
Key players in the Uluru Statement from the Heart campaign have welcomed the PM's commitment to a referendum question on an Indigenous voice to parliament and a form of words in the constitution, saying the proposal is almost identical to the wording they had put forward in 2018.
Our Indigenous affairs editor Lorena Allam writes from Garma:
Coalition offers qualified support for Indigenous voice but wants details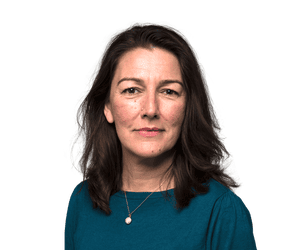 Lorena Allam
Speaking at the Garma festival, the Coalition's spokesman on Indigenous Australians, Julian Leeser, offered qualified support for the voice to parliament plan as laid out by the prime minister, Anthony Albanese.
Leeser said it was now up to the government to explain to the people how a voice to parliament would operate.
He said he supported the move to enshrine a voice in the constitution but wanted to see the detail of the question, the proposed reforms and said that if a referendum were to succeed, it would depend on whether the government could adequately explain to the Australian people what the voice would look like.
He said:
We as a Coalition have an open mimd about the issue of the voice that the government is putting forward and we are awaiting the detail.

This is a step today on that road, but we still want to know how the voice itself is going to operate.
He said he looked forward to working with Labor on the issues, and had an "open communication" with the minister for Indigenous Australians, Linda Burney, and the prime minister.
Victoria to set up taskforce to tackle foot and mouth
An emergency taskforce to deal with a potential outbreak of foot-and-mouth disease will be set up in Victoria, AAP reports.
It comes as Australian agriculture ministers agreed on a draft national biosecurity strategy at a recent meeting that discussed the disease, which has the potential to cripple the country's livestock industry.
The Andrews government's emergency animal disease taskforce will focus on bolstering Agriculture Victoria's workforce to help manage the potential social, economic and environmental threats posed by foot and mouth.
More than 300 Agriculture Victoria staff are undertaking foot-and-mouth disease-specific training, scenario planning and emergency exercises.
The Victorian agriculture minister, Gayle Tierney, said risk assessment and preparedness was "key in ensuring we're best placed to respond if there is a positive detection in livestock in Victoria – and we're doing the work now to protect our industry".
Victoria is the only jurisdiction that has a mandatory electronic national livestock identification system for sheep and goats, with an average 10.5m sheep tags purchased every year.
State cattle producers buy 2.5m cattle tags each year, according to the Victorian government.
Livestock traceability was among the issues on the agenda for the first meeting of agriculture ministers under the new Albanese government last week.
After an eight-month hiatus, ministers resolved to advance work on a national approach to Australia's livestock traceability systems, noting a mandatory identification system is urgently needed for sheep and goats.
They agreed in-principle to the draft National Biosecurity Strategy, according to a communiqué published on Friday.
Greens to push Labor to support other Indigenous proposals before referendum
The Greens senator Lidia Thorpe has issued a statement responding to Anthony Albanese's Garma speech, saying she'll seek to meet with the government to push for its support on a series of other proposals prior to the referendum.
Thorpe says she wants the government to show "they're committed to action, not just symbolism" by adopting, among other things, the recommendations in full from the 1991 Royal Commission into Aboriginal Deaths in Custody and the 1997 Bringing them Home report.
She says:
This is urgent, and overdue.

I want the government to support our bill to back the United Nations Declaration on the Rights of Indigenous Peoples, implement the remaining recommendations from the stolen generations and deaths in custody royal commissions, and back the Greens' plans for concrete steps towards a treaty.

We don't have to wait until next year to have our rights legislated. Labor can support the United Nations Declaration on the Rights of Indigenous People, which is being debated in parliament on Monday, to help guarantee that our rights will be protected.
Good afternoon. This is Michael McGowan taking over for a short shift while Mostafa takes a breather.
A quick Covid-19 update: WA Health is reporting a total of 4,034 new cases to 6pm last night. There are currently 26,939 active cases in that state.
Standing ovation for PM's Garma speech outlining Indigenous voice plan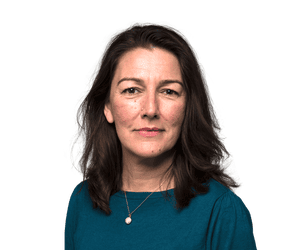 Lorena Allam
It was standing room only at the Garma forum where hundreds listened to the prime minister, Anthony Albanese, outline his plans for a voice to parliament.
There were cheers and a big round of applause as he said:
Today, I reaffirm my government's promise to implement the Statement from the Heart at Uluru in full.
This vote and the need for it was to address the rights of First Nations people, whose needs must be addressed and which are "above politics".
"More of the same will mean things will just get worse," Albanese said.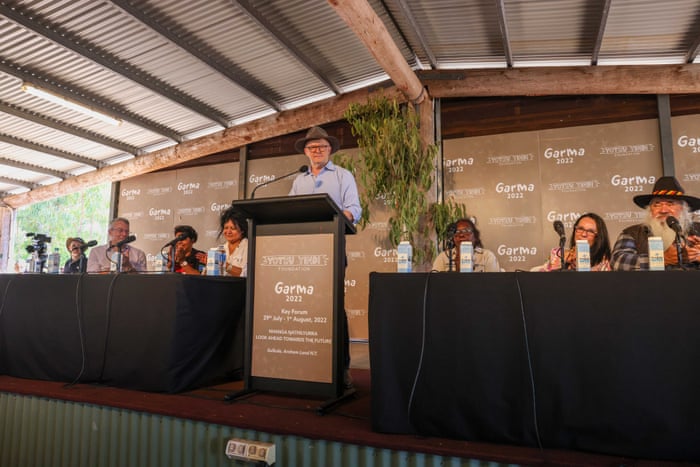 There was a standing ovation as he left the stage.
Albanese headed straight over to shake hands and pay respects to Gumatj clan leader Galarrwuy Yunupingu.
The PM then walked along the path to meet the Garma youth delegates.
'The voice of the Australian people will create a voice to parliament,' PM says
The PM wraps up his speech to resounding applause, saying that while a referendum is a "high hurdle to clear" and is risky, he believes in the "character of the Australian people":
A referendum is a high hurdle to clear, you know that and so do we.

We recognise the risks of failure but we choose not to dwell on them – because we see this referendum as a magnificent opportunity for Australia.
This historic decision, this long overdue embrace of truth and justice and decency and respect for First Nations people will be voted into law by the people of Australia.

The voice of the Australian people will create a voice to parliament.

And that means all Australians have the chance to own this change, to be proud of it, to be counted and heard on the right side of history.

To vote the unique Australian gift of the wisdom of the world's oldest continuing civilisation into the constitution of our nation.

I am optimistic for the success of this referendum.