5.17pm EST17:17
So just a bit more on the story we reported last night that former Liberal turned United Australia Party MP Craig Kelly was appointed to the parliament's inquiry into social media and online safety.
As we reported, the make up of the committee is that the government gets five of the eight MPs, with the remainder being made up of Labor and the crossbench.
Labor had two members, and the crossbench has one. Everyone is confused as to who actually put him on there. It wasn't the government. Labor did put his name forward, but it was just because one of the crossbench were also allow onto the committee, and his name was provided to them.
I'm told Craig Kelly wanted the role and he put his hand up for it, but he wasn't put forward by the other crossbench members. Indeed some have since expressed surprised at his appointment, too.
5.02pm EST17:02
NSW records one Covid-19 death and 325 new cases
New South Wales has reported 325 new cases of Covid-19 and one additional death.
4.46pm EST16:46
Residents in the town of Goondiwindi in Queensland's south-west are anxiously awaiting their biggest flood in a decade as waters threaten levee banks, AAP reports.
The Macintyre River was at 10.33m on Friday afternoon, with the Bureau of Meteorology forecasting the flood to peak at 10.7m.
That's above the 2011 record of 10.64m, but below the town's 11m flood levee.
As local business owners described an atmosphere of unease and concern within the town, mayor Lawrence Springborg said his staff were working around the clock to provide updates.
"We have quite a good level of confidence that levee will again protect our town, and we've got council staff that ride that levy on a regular basis," he told AAP.
Residents have left their gates open for council to ride through on quad bikes and assess the levels of rising water along the Macintyre river, with all of the towns catchments at capacity.
On Friday, 10 patients were airlifted from Goondiwindi Hospital ahead of Saturday's forecast peak.
The Queensland premier, Annastacia Palaszczuk, also confirmed on Friday that more than 70 aged care residents would be evacuated if the river level hit 10.6m.
The bureau has forecast further rain in the coming week for Goondiwindi, but Springborg said if falls are not widespread the town should be safe.
"From our perspective, delayed rainfall is fine. It gives us time for our rivers to start to drop and build some more capacity," he said.
"But of course we don't have much freeboard at the moment because our rivers and streams are full.
"If it's widespread heavy rainfall, that's what can cause further issues."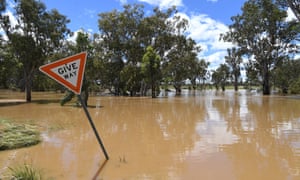 Updated
at 5.20pm EST
4.38pm EST16:38
In case you missed this last night from my colleague Stephanie Convery.
The Fair Work Commission has ruled a Covid-19 vaccine mandate for all workers at BHP's Mount Arthur coalmine was unlawful because the company did not consult adequately with its workers.
Updated
at 4.38pm EST
4.09pm EST16:09
A man who absconded from Covid-19 quarantine in the Northern Territory has been taken into custody after less than five hours on the run, AAP reports.
Police said the 36-year-old man was seen scaling a fence at the Howard Springs Centre for National Resilience about 10pm on Friday.
Authorities are still searching for another man who escaped an Alice Springs quarantine facility.
Jeremy MacDonald, 27, is alleged to have escaped over his room's balcony about 1pm on Friday.
He returned a negative test on Wednesday, after being ordered to quarantine four days earlier for failing to declare he had visited a hotspot before travelling to the NT.
Six people have escaped quarantine facilities in the NT since 26 November.
Updated
at 4.16pm EST
3.51pm EST15:51
Good morning, I'm Josh Taylor and I will be bringing you all the latest news this morning.
A concerning cluster of Covid-19 cases at Regents Park Christian School in western Sydney has grown to 13, with three already confirmed positive for Omicron. Testing results are still to come for the other 10.
The ACT has also recorded its first case of the Omicron variant in a person who has not travel overseas.
There have been 13 cases of Omicron detected in Australia, 11 of them in NSW, one in the Northern Territory and one in the ACT.
A woman in her 70s from the Binjari community, just outside Katherine, has become the first person to die of Covid in the Northern Territory.
Both NT and WA closed their borders to South Australia after an outbreak of Covid-19 in the state, and four new cases in the state recorded on Friday.
Yesterday the prime minister, Scott Morrison, denied misleading Australians about the vaccination status of SA senator Alex Antic, after he was moved into an SA medi-hotel reserved for those with Covid-19 or those returning travellers who are unvaccinated.
We are likely to hear a lot more on emissions reduction after Labor announced its 2030 target of 43% on Friday.
And towns on the border of NSW and Queensland are also on alert for rising floodwaters.
Let's get into it.
Updated
at 4.28pm EST