2.57am EDT02:57
'We're not seeking in any way to constrain China's growth': Morrison
Scott Morrison has declared that Australia does not want to constrain China's economic rise, saying his government is "not in the containment club".
The prime minister, who attended the first-ever in-person meeting of leaders from the Quad in Washington DC last week, said the grouping of Australia, the US, India and Japan was "not a formal alliance" and was "not designed to be an alliance".
In a briefing for Indian media outlets in Australia today, Morrison said he did not want to see the region in "binary terms".



We're not seeking in any way to constrain China's growth – never have. We're not in the containment club when it comes to China. We have greatly benefited from their economic development, and they have been very successful indeed, as India has, in taking millions, hundreds of millions of people out of poverty.

It's quite a remarkable economic success. This is good. We welcome that. We think that's great. But, it's important that as countries develop and as they grow, that they continue to be a positive and supportive influence in the region for peace and stability, and that the respect is there for all other countries in the Indo-Pacific, for their own sovereignty.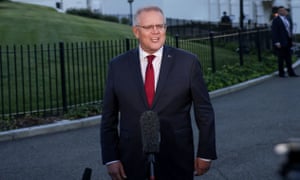 Morrison said the Quad members wanted to ensure that economic growth occurred "in a way that is inclusive and doesn't place burdens on other countries in the Indo-Pacific, which is only reasonable, only reasonable".
Pushing back at China's criticism of the grouping, Morrison also said the Quad was "not exclusive".



In the Indo-Pacific there is an increasing web of these partnerships and alliances and that only builds greater regional stability and security. It doesn't escalate anything. In my view it reduces the risks by ensuring that it is providing a positive outcome or a positive effect in the region that deters behaviour that would be counter to a free and open Indo-Pacific.
Morrison said Australia's newly announced defence arrangement with the UK and the US – called Aukus, which will involve the delivery of nuclear-powered submarines – also "complements, rather than takes away, from what we're doing in those other partnerships".
Updated
at 3.06am EDT